From enterprise class web applications to
basic web sites and Search Engine Optimization. We can help!
Search
By a Jacksonville Web Design Company!
Web Application Developmemnt, Mobile App Development
For Maximum Exposure and Sales Performance
Follow & Review Us



Listen to our Radio Commercial

Email Marketing Services
BoomClient partners with Constant Contact®, Inc. to bring you a simple online tool for managing all your email marketing and online survey tools. Constant Contact®, Inc.'s email marketing services and online survey tools help small businesses and organizations connect to customers quickly, easily, and affordably and build stronger relationships. Through our partnership page, our customers can create and manage their newsletters, emails, events and surveys.
Email Marketing makes it quick, easy and affordable to connect with your customers through targeted email marketing
Email Marketing by Constant Contact® is the easy, effective, and highly affordable way to get your message out to your customers, clients, or members and build strong, successful, and lasting relationships with them. You'll create high-impact email newsletters and promotions in minutes, no technical expertise necessary. With more than 400 easily-customized templates, a simple point-and-click tool, and award-winning free customer support, you can create professional, compelling messages your audience will act on. And we make it easy for you to manage your contact lists, sign up website visitors, track your clicks and open rates, and send automated communications to new subscribers.
With Email Marketing by Constant Contact, you can:
Choose from more than 400 easily customized email templates?or create your own from scratch.
Create highly visual, professional-looking email newsletters and promotions in just minutes.
Drive more traffic to your website with focused, targeted email communications.
Build and manage your email list: import existing customer lists, add names individually, or capture contact information from website visitors.
Measure your email campaign results instantly-check click-through rates, review new subscribers, and see who opened and clicked on each link so you can tailor your follow-up communications.
Send automated communications to new sign-ups via our Autoresponder tool.
Communicate with your audience with confidence, knowing that Constant Contact will take care of getting your email delivered and keep you CAN-SPAM compliant.
Discover how the power of Email Marketing by Constant Contact can help you better connect with your customers, strengthen your relationships with them, and grow your organization.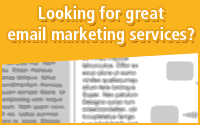 See how far a FREE 60-Day Trial can take your business! Put the power of Email Marketing to work for you.
Web Design & SEO Quick Quote
Give us some basic information
and we'll get back to you
right away.